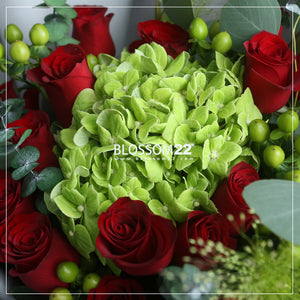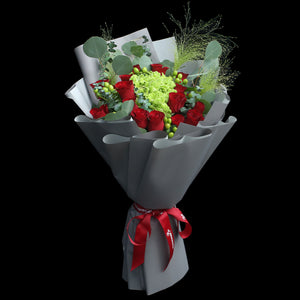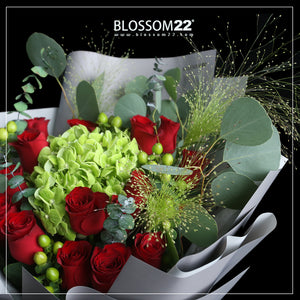 19枝 紅玫瑰青綠繡球花束|19 Red Roses & Lime Green Hydrangea Bouquet(Bell Pepper)
Colour matching has always been one of our main considerations when designing our products. We strive to restore the beauty back to the basics, and at the same time, creating some variations out of the simplicity.

Red and green are deemed as two extreme colours to each other, however, the combinations of red and green peppers/ apples are surprisingly harmonious when they come together. In light with this, we specifically use a lime-coloured hydrangea as the major component of the bouquet, with the accompaniment of some mung beans and eucalyptus, it brings out a feeling of vitality.
色系配搭向來是我們品牌極其重視之設計原則,把美麗還原於基本,務求於簡約平凡耐看中作出變奏。
把青、紅椒,又或青、紅蘋果放在一起,明明是各走極端青紅二色,碰撞一起卻是出奇的和諧,所以我們特地用上了青檸色系繡球來作為花束重心,配以綠豆、尤加利展現出活力生氣。
Tailor Made your affectionate message
Free Message Greeting Card

99支玫瑰 99枝玫瑰 求婚 99朵玫瑰 求婚花束 108枝玫瑰 買花 訂花 訂花推薦 香港花店 玫瑰花熊 玫瑰花熊仔 玫瑰熊 女朋友禮物 女朋友生日 女朋友送花 老婆生日禮物 老婆禮物 結婚週年禮物 結婚禮物