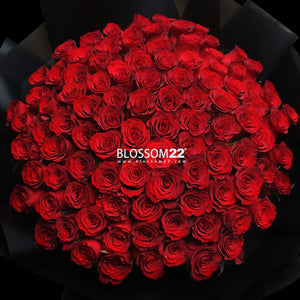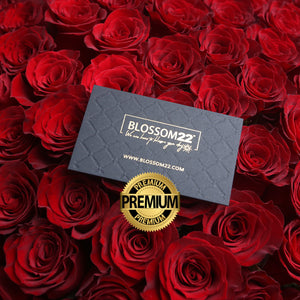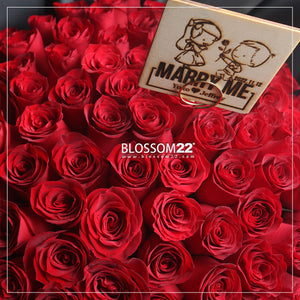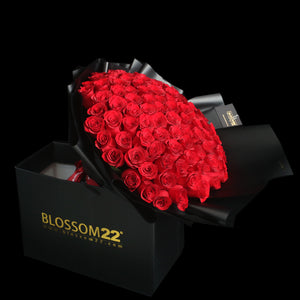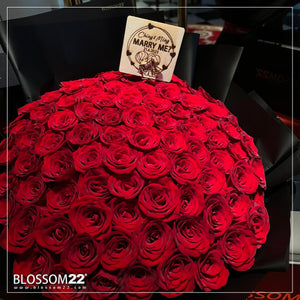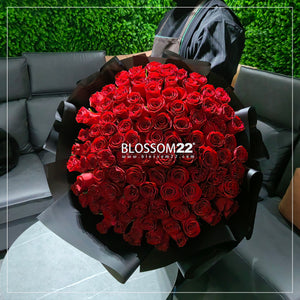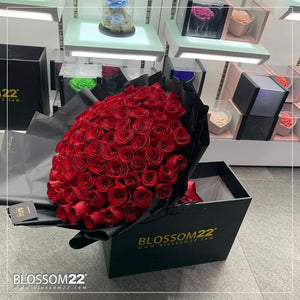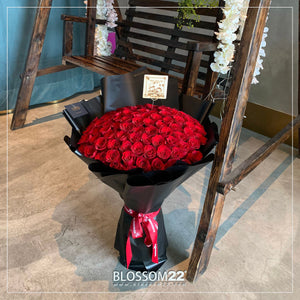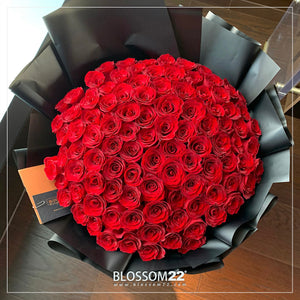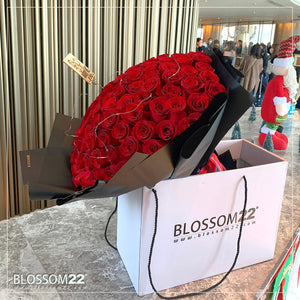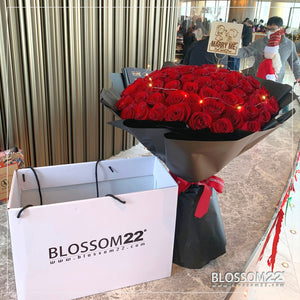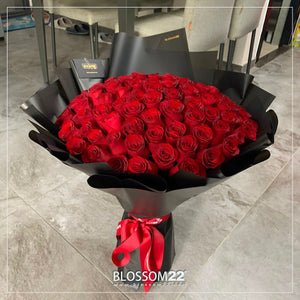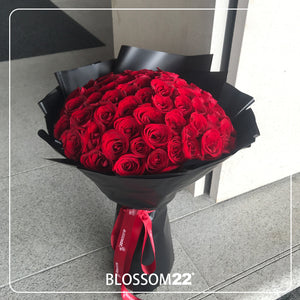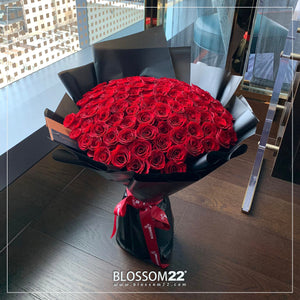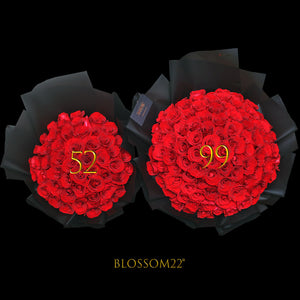 99枝 紅玫瑰求婚花束 99 Red Roses Bouquet
皇牌 99 紅玫瑰 求婚花束
BLOSSOM22° 皇牌「Rhodos」標準厚瓣紅玫瑰,杯型花頭,型態均勻。另有升級品種「Explorer」可供選擇。
【99 玫瑰求婚花束】99 枝玫瑰花束代表天長地久、長相廝守,適合求婚、生日、週年紀念以表愛意。是求婚花束當中的首選。在經典浪漫的求婚場景中,一把 99 求婚玫瑰花束搭配耀眼奪人的鑽戒,可以說是求婚必勝組合!熱情浪漫的 99 紅玫瑰絕對是求婚花束首選。
【長長久久 99 朵玫瑰】 以正式花數的含意,於求婚的含義上,108 朵玫瑰更為正統,但為何 99 朵更為深入民心,而成為了最廣為人知的求婚花束枝數? 99朵玫瑰代表長長久久、長相廝守、天長地久的愛情,是鮮花朵數中最受歡迎且寓意最佳的朵數,浪漫經典,絕不出錯。玫瑰亦透露出的濃濃愛意,辨識度和代表性也極高,適合任何情況下送予女友,太太,或求婚等場合。
【求婚三寶】 在向愛人求婚的安排上,注重儀式感的男士,定必對「 求婚三寶 」有所準備,「 求婚三寶 」就是指 鮮花、戒指和誠意下跪。所以事前除了準備求婚戒指的訂製外,專屬的求婚 99 玫瑰花束就大派用場,成了非常熱門,甚至幾乎變成了求婚的基本配備。
紅玫瑰長期以來一直是愛情、激情和浪漫的象徵,使其成為情人節、週年紀念日和婚禮等特殊場合的熱門選擇。「Explorer」紅玫瑰的深紅色特別引人注目,增添了一抹精緻和優雅。

除了美麗之外,紅色玫瑰還代表著強烈、深刻的感情和情感。無論是作為禮物贈送還是用作裝飾,紅玫瑰一定會給人留下深刻的印象,傳達愛和感情的信息。
BLOSSOM22° Royal brand extra thick petal red rose, cup-shaped flower head, uniform shape.
[99 Roses Propose Bouquet] The 99 roses bouquet represents eternity and togetherness, suitable for marriage proposals, birthdays, and anniversaries to express love. It is the first choice among the proposal bouquets. In a classic romantic proposal scene, a bouquet of 99 proposal roses paired with a dazzling diamond ring can be said to be a winning combination for a proposal! The warm and romantic 99 red roses are definitely the first choice for proposal bouquets.
[99 roses for a long time] In terms of the formal number of flowers, 108 roses are more orthodox in the meaning of marriage proposal, but why is 99 roses more popular and become the most well-known number of proposal bouquets? 99 roses represent long-lasting, long-lasting, and everlasting love. They are the most popular and best-meaning flowers in the number of flowers. They are romantic and classic, and there is no mistake. Roses also reveal deep love, and are highly recognizable and representative. They are suitable for gifting to girlfriends, wives, or marriage proposals under any circumstances.
Tailor Made your affectionate message
Free Message Greeting Card

We are here to blossom your day
99支玫瑰 99枝玫瑰 求婚 99朵玫瑰 求婚花束 108枝玫瑰 買花 訂花 訂花推薦 香港花店 玫瑰花熊 玫瑰花熊仔 玫瑰熊 女朋友禮物 女朋友生日 女朋友送花 老婆生日禮物 老婆禮物 結婚週年禮物 結婚禮物